Caregiving Is a Marathon

My mother-in-law, Edwina, visited us right before Christmas. I'm proud to say that I'm her favorite son-in-law. (That's a family joke. I'm her only son-in-law.) Her husband, Ken, died from Huntington's disease in 2011. During her visit, I asked her what it's like to be a caregiver for someone you love. My wife, Jill, was diagnosed last year as being gene-positive for Huntington's. So her mother's advice would be helpful, I figured.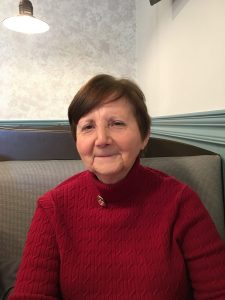 Our situations are similar in that we both were aware of the Huntington's disease gene when we married into the family. We knew there was a 50 percent chance that our spouses could end up having Huntington's.
The first signs that something was wrong with Ken were anxiety and depression, which are common early symptoms. These symptoms affected his work. He would be late to appointments, his judgment became impaired, and he lost the ability to stay on task. As a consequence, the man who had been a great supervisor lost his job.
Several months later, after he got another job, his youngest son was in a terrible car accident. The stress of seeing his son in a coma with a traumatic brain injury sped up his symptoms. He began twitching, falling, making guttural groans, and saying things in a non-filter kind of way.
As a social worker, Edwina was used to working with people with disabilities. But living with someone with a terminal illness meant she couldn't stop being a caregiver once she got home. She said a friend who had a child with severe disabilities once told her that being a caregiver of someone who was disabled was like being in a marathon.
My wife helped Edwina during those years, sharing some of the caregiving responsibilities. Jill would prepare meals for her father and provide respite for Edwina.
Edwina said she wishes she had known more about disability insurance during her early years of caregiving. She wishes she had made understanding it and the Medicare system a priority.
"When you're in the middle of it, you really need a social worker who knows the system to help you negotiate it," Edwina said. As a case coordinator for people with disabilities, she had done that for others. But when she was working and being a caregiver, she didn't have the time or energy to negotiate the worlds of Medicare or supplemental insurance.
Edwina also wishes she could have better understood what Ken was going through. He became unable to express what was making him anxious, making it difficult for his family to help him find solutions.
Edwina's journey as a caregiver lasted 15 years, from the time Ken started showing symptoms until his death in early 2011. Toward the end of his life, Ken was hospitalized frequently with infections. He had a feeding tube. The only way he could talk was through an augmented communication device. Life was difficult for him and challenging for her. They were overwhelmed, she said.
"The problem was, he was getting worse, but it was going on for 15 years," she said. He had been ill for so long that on the day he died, it was a surprise. "I wish the medical professionals had said that he needed hospice, that this is the end. Had I known, my choices would have been different. I would have taken family medical leave earlier." She was scheduled to start family medical leave the day after he died.
Because caregiving can turn into a marathon, Edwina's best advice for caregivers is to seek help from others. It might be family members, friends, or a faith community.
"At this point in my life, when I look back, I remember the good times, even some good times during the Huntington's journey, and I also remember my husband is a man who changed hundreds of children's lives. His life was worthwhile, even though it was difficult," she said.
***
Note: Huntington's Disease News is strictly a news and information website about the disease. It does not provide medical advice, diagnosis, or treatment. This content is not intended to be a substitute for professional medical advice, diagnosis, or treatment. Always seek the advice of your physician or other qualified health provider with any questions you may have regarding a medical condition. Never disregard professional medical advice or delay in seeking it because of something you have read on this website. The opinions expressed in this column are not those of Huntington's Disease News or its parent company, BioNews Services, and are intended to spark discussion about issues pertaining to Huntington's disease.