Study Lauds Narrative Group Therapy as Alternative Strategy to Support Carriers of HTT Mutations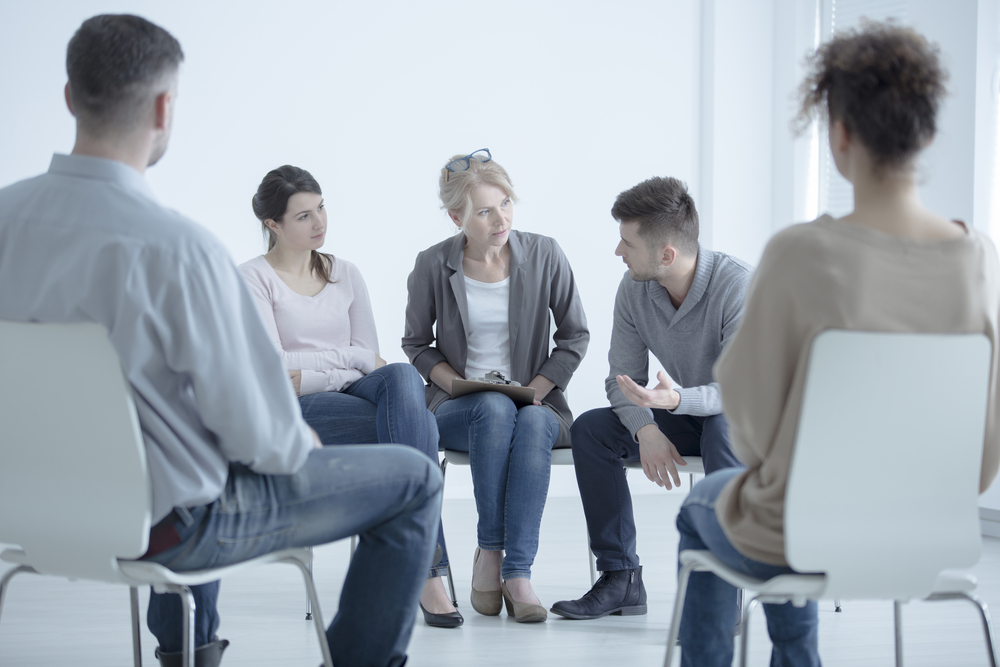 Narrative interventions can help provide support to individuals who are carriers of HTT gene mutations linked to Huntington's disease, a study shows.
The study, "Improving follow up after predictive testing in Huntington's disease: evaluating a genetic counselling narrative group session," was published in the Journal of Community Genetics.
Given the genetic and hereditary nature of Huntington's disease, current guidelines propose that genetic testing should be performed when it is suspected an individual may be at risk of having the disease.
There is no cure for this progressive neurological disorder. Still, early recognition of Huntington's may allow for timely interventions aiming to slow its progression and improve patients' overall health-related quality of life.
Despite the potential benefits, predictive genetic testing can be a heavy burden and present many uncertainties.
Identification of HTT mutations — known to cause the disease — does not provide any information on when symptoms will begin, or how they will manifest. As such, proper counseling and support are important aspects that should be taken into account during follow-up with these patients.
Researchers from the University of Manchester, U.K., developed a new intervention strategy for post-predictive Huntington's testing based on collective narrative practices.
Narrative interventions, sometimes described as "re-storying" conversations, "aims to help people to separate their problems from their personal identities in a respectful, non-critical manner," researchers wrote.
"Narrative practice perceives lives as 'multi-storied,' meaning that there are multiple ways in which experiences can be expressed and viewed," they added. "Through questioning and collaborative conversation, the individual is encouraged to center themselves as the experts of their own lives."
How the pilot study unfolded
To explore the feasibility of this approach and its potential benefits, the team conducted a pilot study that enrolled 15 individuals who had tested positive for HTT mutations (mHTT) and were still asymptomatic. Participants were asked to undergo a two-hour group session of narrative therapy using an adaptation of the "Tree of Life," an approach that uses parts of a tree as metaphors to represent the different aspects of peoples' lives.
During the session, the group had access to a painted picture of a tree, with bare roots and branches:
the roots represent the participants' heritage and background;
the ground is a symbol of important aspects of daily life and everyday routines;
the trunk represents the participants' skills and what helps them to get through difficult times;
the branches symbolize their hopes, wishes, and dreams;
the leaves represent individuals who are special and important to the participants;
the fruit represents the contribution that others have made to participants' lives.
Following a narrative guided by questions, participants were asked to identify examples of different aspects of their lives that are represented by the tree's parts. They wrote their answers in a Post-it note that was then glued to the respective tree element image.
"Once the tree is completed it offers a different 'place' for participants to stand, allowing them to view their reflections from a different perspective," researchers wrote.
Participants reported that they felt safe and comfortable during the session, which had a positive atmosphere that helped them engage and speak freely with each other. They also reported as positive the fact that the group included people with different backgrounds and experiences, which also allowed them to have a broader perspective of their circumstances.
All participants stated they felt that the session was helpful and beneficial, as it helped them connect and not feel alone, and also helped them reduce their anxiety. They also reported they would recommend this type of intervention to others.
"… I think with like, the whole Huntington's thing, people do feel like they're alone and there's not a lot of people that are going through the things that they are," one participant said.
"… I think especially knowing about (another participant)—I think that did, yeah, kind of have an effect on me. So I think I came away from that more positive than negative, you know," one patient added. "I think just to get people to understand how Huntington's affects each of us, you know, in different ways … I know how it affects me, but there I would see it showcased how it affects other people."
"Sharing stories and being encouraged to speak openly was reported to be inspiring and reassuring," researchers wrote.
Collectively, the positive reports of the participants suggest this alternative narrative strategy can be used to nurture feelings of resilience and connectedness among those who have received a mutation positive Huntington's predictive test result.